Developing a website can be a tremendous undertaking with many things to consider. You want your site to stand out and be as user-friendly as possible, while also ranking high in search engine results. Whether you are building off of a framework, or coding from scratch, there are quite a few things to consider when embarking on the journey of designing a website.
Purpose
Firstly, you need to determine the purpose of your site. Once you understand what your site is being used for, you can then determine the next appropriate action from there. Is your site going to be a static, informational one? Is your site going to be a personal portfolio? Is it going to be an e-commerce store? Will you have a newsletter?
Once you clearly define the purpose of your site, you can then gauge infrastructure requirements. Will you need to send out high volumes of email? Are you expecting high volumes of traffic? Will you be taking personally identifiable information, or maybe even handling purchases? Are you expecting to be conducting business with customers in the UK or European Union? Are you going to allow public registration of user accounts? Where will most of your customers be located? All of these are questions that need to be answered before you even begin to code. It is a lot easier to get the infrastructure right the first time, than to fix things as you go because you did not have adequate planning.
Style
Once you determine your site's purpose and infrastructural requirements, you then need to think about the appearance of your site. If you are using WordPress or another content management system (CMS), peruse over a couple of themes (or templates for other CMSs) to get an idea of how you may want your site laid out. You can use one of these as a base, or create your own.
Also, think about a colour scheme for your site as well. If you are a business in need of a site, you would want the colour scheme to match with the colours present in your logo or existing advertising media.
Mobile Responsiveness
Global Mobile vs. Desktop Market Share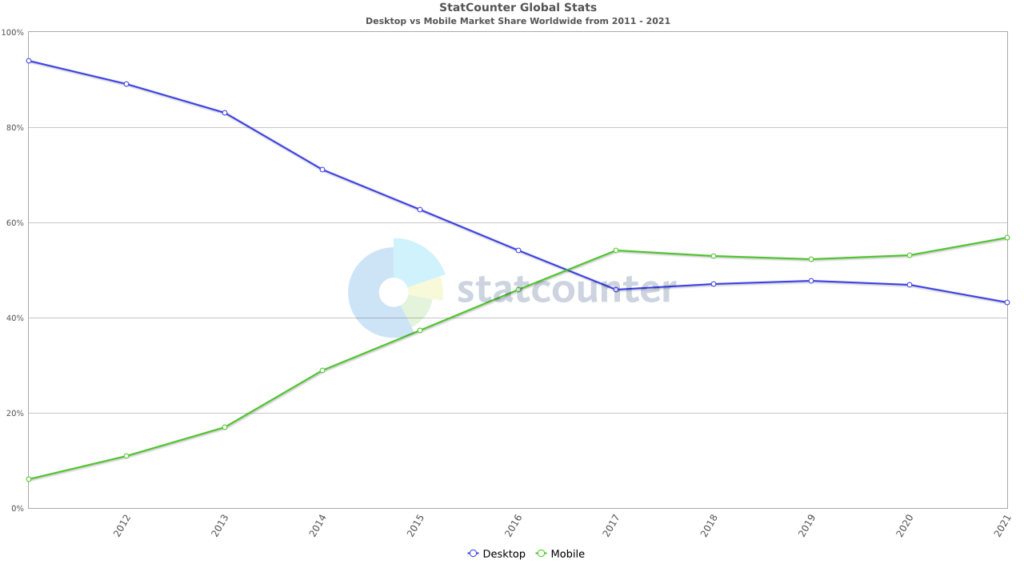 Bahamas Mobile vs. Desktop Market Share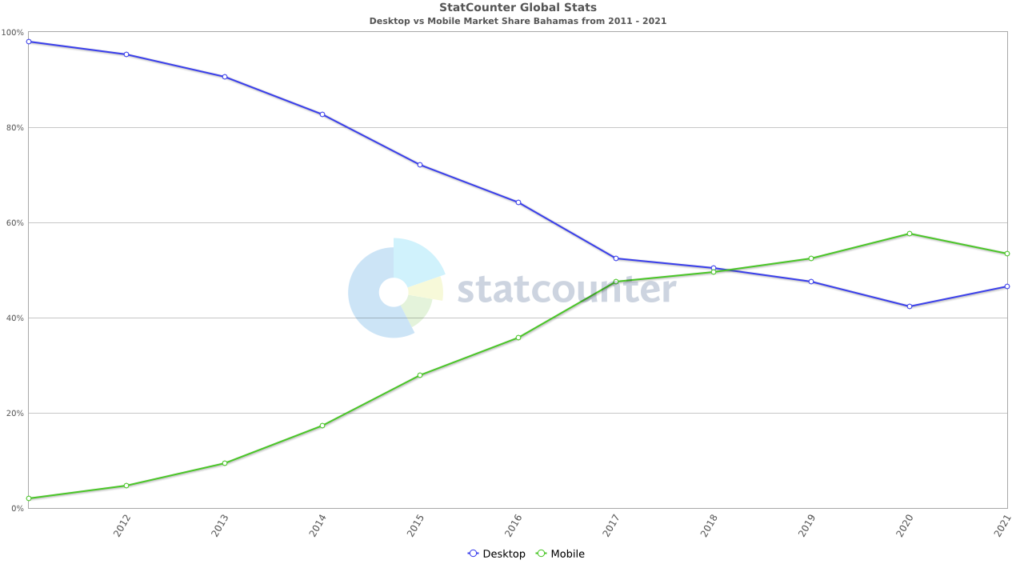 As the above graphics show, mobile traffic now represents the dominant market share both globally and in the Bahamas. Any website that is designed today has to feature mobile responsiveness as a primary consideration. In addition to the wide proliferation of smartphones, many users also utilize tablets. You have no option but to design your website with a wide spectrum of screen sizes in mind.
Search Engine Optimization (SEO)
Finally, you need to take search engine optimization into account when designing your website.
While you cannot directly control where you rank in the various search engines, there are many things that you can do to help you rank as high as possible. Some of these include :
Repetition of keywords in your pages/posts
Ensure that your pages/posts have a meta description
Optimize images for quicker load times
Ensure that your pages/posts have a decent amount of content (not too long or short)
Pick a domain that includes a keyword
Include internal and external links on your site
Generate a sitemap if you do not have one
Keep your users on your site, and interacting with it, as long as possible
These bulletpoints just cover the tip of the iceberg when it comes to search engine optimization, but provide a good idea on what you can do right now to help you propel higher in the rankings. Where you rank may be directly out of your control, but you can take measures to rank as high as possible. You are in a good SEO position once you start placing on the front page.
An important thing to note is that every search engine uses a different algorithm. It is common to be on the first page for Google, but not seen until the second or third for others. Search engines change their algorithms periodically as well.
Conclusion
I hope that this post has proven useful to readers who are considering launching a website. There are many things to consider, but these are some of the surface-level topics that must be touched on when deciding to embark on such an undertaking.
Use the below form to get in touch with Sawyer's Software today to get your website off the ground.